eScrip: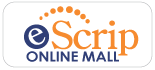 Coronado residents who have visited the Coronado Neighborhood Association ("CNA") website may have noticed the eScrip box on the left side of the home page but not understood what an "eScrip" is.
EScrip is a funny name for a simple, effective fundraising program that can easily turn you into a philanthropist without having to spend a dime of your own money!
The eScrip program is a great way for neighbors to help CNA raise money for projects and services that benefit the entire neighborhood. Over the past five years, our eScrip participants have raised hundreds of dollars. With your participation, CNA can raise even more money to use on neighborhood improvement projects that benefit the entire community.
How do I sign up?
To sign up, all you have to do is click on the eScrip icon on this page (or click here), and create a profile. By creating an eScrip account online, you can register a debit or credit card with the program and raise money for CNA every time you shop at more than 800 online stores or dine at numerous local restaurants that will make a contribution to the neighborhood.
This slideshow presentation will walk you through the registration process step-by-step.

Frequently Asked Questions
What is CNA's group ID number?
Our group ID number is 1167234. We are listed in eScrip as "Greater Coronado Neighborhood Assoc."
How do I check my contributions or change my information?
It's easy to keep track of your contributions to the eScrip program. First, go to the "my eScrip" home page (https://secure.escrip.com/jsp/supporter/authentication/password.jsp) and type in the Supporter ID number and password you created when you registered.

From there, you'll see links that will help you view your monthly eScrip purchase reports, register additional cards, update your address and phone number and change your group selection.
That's all there is to it!
Will eScrip charge my credit card?
NO! Card numbers are used solely to process the contributions generated by your purchases. Your Card will never be charged for anything by eScrip. EScrip uses VISA - "CISP", which is "Cardholder Information Security Program" Certification for processors.
What kind of online security does eScrip provide?
target="_blank">www.escrip.com is a VeriSign Secure Site. All information sent to this site is encrypted, protecting against disclosure of your personal information to third parties. (Be aware that participating merchant websites may have a different security policy.)
Could my purchase information be sold to third parties?
No, eScrip will not sell or rent any personally identifying information about program participants to any third parties.
Will others see what I've purchased?
No, purchase item detail is not sent to eScrip or to the CNA. Purchase activity is not shared between program merchants.
If you would like more information about the program or have any questions, please contact CNA's eScrip coordinator Faith Klepper
---